Communication Address :
"Sinex House", Plot no 127,
Navghar Village, Vasai (East )
Mumbai, Pin 401210.
Maharashtra, India
Telefax: +91 250 2391410 /
+91 250 2393233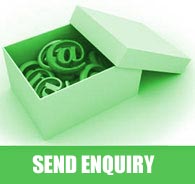 Bangalore | Kolkata | Delhi
Ahmedabad | Indore| Mumbai
Pune| Chennai

Unbalanced Weight Vibration Motor: EMV-B 3.1/8 GA Drawing
Key Features
a) Heavy duty bearings from SKF/FAG for long maintenance free bearing life.
b) Sturdy foot design, further strengthened with gussets to prevent foot breakage.
c) Path breaking fin construction. Low temp rise even in high temperature ambient conditions.
d) V seals on shaft and "O" ring on cover to protect bearings in highly dusty environments.
e) Innovative in-situ lubrication facility with used grease scavenging effect. No dismantling required.